It's often said that the only constant in life is change, and sometimes we find ourselves in unanticipated circumstances. Your financial circumstances can change in the blink of the eye, particularly if medical issues arise or you suddenly lose your job. When your financial situation changes, it could be a good idea to refinance your mortgage. Before procuring a mortgage refinance, you must first discover how much it will cost you. A mortgage refinance may not be worth it if the points and fees combined cost you thousands of dollars. Our independent brokers at Scout Mortgage will research mortgage refinance options for you to find you the best mortgage rates available. By keeping your closing costs as low as possible, you'll be able to get back on your feet as quickly as possible. Today we would like to discuss the benefits of mortgage refinance:
Lowered Interest Rates
Interest rates are historically low right now, so it's a great idea to take advantage of them. After all, it's only a matter of time before mortgage rates jump higher, so now is the time to lock in lower rates. Our mortgage specialists in Scottsdale contact as many of the nation's largest and most competitive mortgage lenders in order to find you the best mortgage rates with the lowest closing costs.
Decrease Your Mortgage Term
As a general rule of thumb, mortgages with shorter terms will have lower rates. If you switch to a mortgage with a shorter term and lower interest rates, you could save thousands of dollars. Our loan specialists are happy to shop around for the best mortgage term for your lifestyle and budget.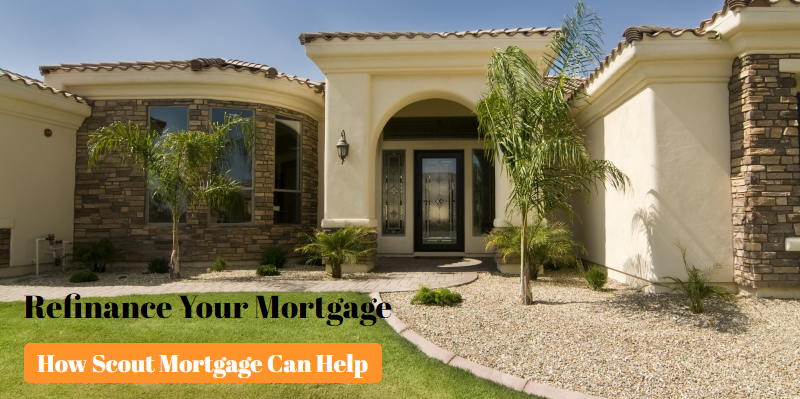 Cash Out Equity
Cashing out equity could be a great option for anyone seeking to consolidate debt, whether it's a second mortgage, student loans, car payments, or credit card bills. When you combine debt into your mortgage loan, you may experience a lower fixed rate, which significantly improves your monthly cash flow. Cashing out is sometimes a great option if you are embarking upon a home improvement project.
How Scout Mortgage Can Help You:
We have over twenty years of experience as a mortgage loan company in Scottsdale, and we understand the ins and outs of the mortgage industry. The reason that we started our business in the first place is because we wanted to set ourselves apart from the many shady mortgage brokers who took advantage of consumers. No matter what loan you choose to go with, our mortgage brokers will not make any additional commissions. Our salary-based agents work hard to ensure that you find the best mortgage to fit your lifestyle and financial needs. Not only will we find you the best mortgage rates today, but we also work in a timely manner. Our dedication to customer service at Scout Mortgage provides you with a quick, hassle-free process of obtaining the right mortgage rates for you. Contact our mortgage loan company in Scottsdale today to get started. You deserve to live the best possible life, and you'll sleep well knowing that you can easily pay your mortgage.